Welcome to "We Eat Fish", a documentary project looking at the interlocking issues of First Nations sovereignty, fights against environmentally destructive oil and gas projects and for their alternatives, and cross-cultural solidarity in northern British Columbia.  This project is an extension of my (Karl Frost) PhD dissertation research (UC Davis, Graduate Group in Ecology). Currently, it consists of a documentary film (work-in-progress from 2015, linked below), and a blog of articles and short films, focusing on my travels around northern British Columbia, visiting sites of direct action resistance and industrial action and the places and people potentially impacted and taking a stand.
The title comes from a quote from Prince Rupert fisherman and member of the Haida First Nation, Arnie Nagy, in talking about widespread resistance to oil pipelines and tankers on the coast: "We don't eat oil!  We Eat Fish."
The central issue that inspired the project was the proposed Enbridge Northern Gateway Pipeline, planned to take bitumen from the tar sands oil fields of Alberta to an export facility in Kitimat on the northern coast of BC.  Internationally, we hear much of the proposed Keystone XL pipeline from the tar sands to the Gulf of Mexico.  There is much justified resistance to this project, but bad as it is for the environment and for all of us, the Enbridge Northern Gateway pipeline is a drastically worse proposal, and within Canada, the resistance has been widespread and spanning multiple communities.  A measure of comparison can be found in two well known ecological disasters, the Exxon Valdez oil tanker crash and leak in Prince William Sound, Alaska (1989) and the Deepwater Horizon disaster in the Gulf of Mexico (2010).   While the Deepwater Horizon spilled an order of magnitude more oil than the Exxon Valdez, the Exxon Valdez resulted in over 20 times the wildlife kill.  Kitimat is not far south of Prince William sound and is part of one of the most biologically rich marine ecosystems on the planet.  The tankers that would run over 200 times per year to Kitimat would be panamax tankers which dwarf the Exxon Valdez, and the Douglas Channel through which they would pass is one of the most dangerous and convoluted passes in the world. The world considers little this part of North America, but the lands and seas are spectacular, the cultures have a deep history, and a disaster in the region would impact all of us.
In July, 2016, the Enbridge Northern Gateway lost its appeal in the federal courts.  It has now been ruled that it failed in properly consulting with First Nations, and so it goes back to the beginning of the review process, but now in a context where multiple First Nations have declared that any approval of the Enbridge pipeline would be seen as an act of war.
While the documentary was originally intended as a short film to document the issues with and resistance to the Enbridge pipeline, it quickly became apparent things were much bigger and more complex than just the Enbridge pipeline and it's potential environmental impacts. This pipeline is not alone, but is one of many pipeline proposals intending to take bitumen and fracked gas to planned coastal oil and liquefied natural gas (LNG) facilities. Many consider the Enbridge pipeline to be a smoke screen, a distraction behind which these other projects could proceed.  The lands that they move through are also largely unceded First Nations territories, communities with long histories of abuse from the Canadian government, but which have been re-finding their political power and rebuilding on their surviving traditional values, ecological knowledge, community structures, and governance.  On top of this, there are also huge issues with new environmentally destructive mining operations and a history of conflicts over logging practices and fishing.
One of the central sites for direct action resistance has been Unist'ot'en Camp. The Unist'ot'en, a Wet'suet'en clan, being faced with proposals from oil and gas companies for pipelines across their territories, have taken a principled stance against the pipelines and have established an ongoing residence on the proposed pipeline routes to enforce their territorial boundaries and sovereignty rights.  As part of this project, they work with indigenous and non-indigenous activists and concerned citizens from around North America in solidarity, building a First Nations community center in the pathway of the proposed pipelines, and as part of their camp, they maintain regular rituals of protocol and declarations of thanks and duties to the land.  These actions are both a form of practical, material assertion of control over the land and affective rituals of solidarity building and commitment to core values of social justice and right environmental relations.  The actions of the Unist'ot'en are part of a building tradition of indigenous-led direct action resistance projects defending the lands and waters and traditional relationships to them.  Logging blockades in Gitksan, Wet'suet'en, Haida, and Tsil'qot'in territories are parts of that tradition.  Ongoing occupations have been expanding in the last years, including the Madii Lii Camp in Luutkudziiwus clan territory of the Gitksan and the pivootal Lelu Island blockade protecting the FLora Banks at the mouth of the Skeena, led by the Gitwilgyoots house of the Tsimshian.
While much of these fights are happening on First Nations territories, the environmental impacts will ripple out and affect all of us, making these fights all of ours.
This web site…
This web site will have 3 functions.
A place to host the developing documentary film, We Eat Fish
A site for short articles and videos on specific issues, giving space to develop content that could not fit into the main film
A travel blog documenting experiences during my 3rd trip to the region, summer 2016
Some of the specific micro-films and short articles will cover
First Nations sovereignty and the practice of protocol rituals
History of colonialism and racism in Canada, cultural suppression, residential schools, and resistance
The legal dynamics of the Delgamuukw (1997) and Tsil'qot'in (2014) Supreme Court rulings, establishing that non-treaty-signing BC First Nations are sovereigns and that Canada and industry must get free prior and informed consent before acting on First Nations territories.
History of the last decades of First Nations sovereignty fights and growing use of direct action resistance.
Re-occupation of traditional territories as strategy for direct action resistance, including Unist'ot'en Camp, the Lelu Island occupation, and Madii Lii
Fracking in BC, and the rebranding of fracking as 'clean LNG'
The potential conversion of fracked gas pipelines into tar sands oil pipelines
First Nations governance, band councils vs traditional hereditary chiefs, law, legitimacy, and the process of approval or disapproval of projects on First Nations territories
Use of archaeology and ethnobotany to gather evidence of residence on territories to establish legal support for sovereignty.
First Nations/non-aboriginal alliance in the context of the experiences with the Clayoquot Sound protests (1992), theories of small group vs large group resistance organization and maintenance of and respect for First Nations leadership in First Nations initiated resistance processes.
Direct action resistance actions on First Nations territories integrating protocol rituals as affective rituals of solidarity building and cultivation of commitment to core values across cultural lines
Reactions and solidarity in non-indigenous communities in BC
Fishing industry and regulation, food fishing rights of First Nations, food security and cultures of food sharing in First Nations and non-aboriginal communities
The Pine Beetle issue and global warming
Images of the natural world potentially impacted by these projects taken from backpacking and kayaking trips through the region
Links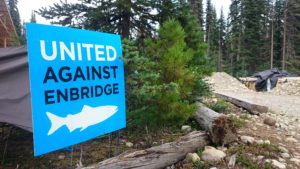 Just to get the process rolling of linking to other sources, here are some …
nomorepipelines.ca— a wealth of information on various pipeline, oil, and gas projects in  British Columbia
The Skeena Watershed Conservation Coalition—  a wonderful organization trying to protect the Skeena River watershed through resistance to destructive oil, gas, and mining projects, and the creation of meaningful alternatives of development
Unist'ot'en Camp– The Unist'ot'en are a Wet'suet'en clan that stand in a principled way adamantly against oil and gas pipelines through their territory.  They are currently maintaining a year round camp to block pipeline development.  With the collaboration of non-aboriginal activists, they have been able to build a healing and counselling center, a bunkhouse, and a traditional pithouse on their traditional hunting grounds, specifically placed on proposed pipeline routes.  The Moricetown Wet'suet'en Band Council, an institution imposed on the Wet'suet'en by the Canadian government, has agreed to the pipelines.  Their story is illustrative of the politics of governance and the manipulation of capital and industry on First Nations communities in BC.  The Unist'ot'en face police harassment and are currently asking for support in their part in our struggle.
Work-in-progress
The following is a work-in-progress version of the documentary film, We Eat Fish, based on footage gathered in the summer of 2014.  Over the summer and fall of 2016, the film will be re-edited  with footage from 2015 and 2016
Support
Aspects of this project were supported by a doctoral dissertation improvement grant from the National Science Foundation